Posted by TriLight Health on Aug 3rd 2019
Across the country, students are returning to school for a new school year. Back-to-school also means the start of cold & flu season. Every year it's the same drill. Send the kids back to school. Not even a month to school, keep the kids home sick. Or deal with a sick toddler from something big brother or sister brought home from school. These things seem to spread like wildfire from year-to-year as soon as school starts back up again.
Building a healthy immune system is always beneficial, especially this time of year. If our immune systems are at their top before they're exposed to something, we're less likely to get sick. Building a strong immune system is easy and may make a huge difference this back-to-school season. Here are tips for the entire family this season.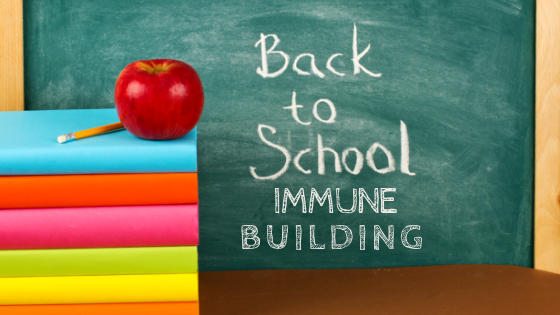 Tips for Back-To-School Immune Building:
Hydrate

Water helps flush toxins from the body and helps ensure all cells work properly. Make sure the kids have a good reusable water bottle and are staying hydrated throughout the day.

Sunshine

Vitamin D levels start to plummet as we spend more time indoors. Get as much sunshine as possible to keep the levels up. Plus sunshine is good for our mental health too!

Nourishing Foods

Bone broth, high-quality pasture-raised meat, grass-fed dairy, leafy greens and plenty of veggies. Sugar, processed foods, and refined grains lower the immune system.

Vitamin C

Citrus, broccoli, bell peppers, and rose hips are all excellent sources of Vitamin C.

Good hygiene

Proper hand washing is important. Showering or bathing after school may also be helpful for some children. Removing germs from the clothing and body can help prevent those germs from coming into the home on surfaces quite as much.

Sleep

Getting enough sleep is crucial to supporting a strong immune system. Support good sleep habits by turning off screens at least two hours before bed and providing a relaxing environment for getting ready for bed.

Exercise

The general recommendation is at least 30 minutes a day of exercise. Head out with the family over the weekend for a nice hike or walk to get exercise and sunshine!

Herbal Support

Herbs have been used for centuries to support a healthy immune system. They're an excellent addition during back-to-school and cold & flu season.
We want to help you build a strong immune system this year. All August long grab our Immune Building Formulas for 15% off.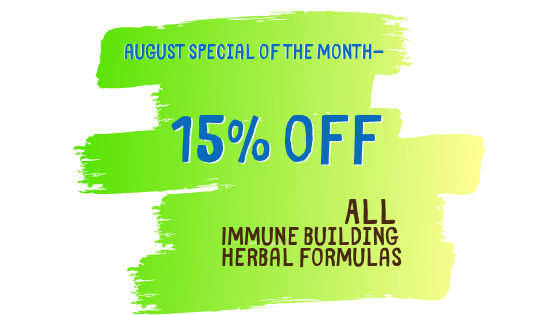 Our immune building formulas are:
BactaMune- Combines organic medicinal anti-microbial herbs that support healthy immune function during the cold / flu season.
Echinacea and Thyme with Elderberries- Low immunity leads to lack of protection from illnesses and the body becomes more prone to illness and infections. Symptoms include: fatigue, infections, inflammation, allergic reactions, vaginal yeast infections and other fungal infections. Help boost and build your immune system today!
Immune System Builder Wellness Kit- The best defense is a good offense. Be proactive with our new Immune System Builder Wellness Kit. This package contains three of our best immune boosting products (Bactamune 8 oz, NR Glow 8 oz, and Echinacea and Thyme 2 oz). These products work together to help stimulate and build your immune system to help you NOT get sick.
NR Glow-This is one of the all-time favorites of our customers and is safe enough to use as a daily tonic. Contains herbs traditionally used for immune support, blood builders, infection fighters, and more.
Propolis- A power-house nourishing substance created naturally by bees. Contains flavonoids, minerals, vitamins C, E, provitamin A, B-complex, and many more nutrients. Popular for immune building cold, sore throats, flu, infections, and more.
Triple Echinacea and Goldenseal- Formula designed by TriLight Health Founder and Herbalist Lyle Bennett to treat cold, flu, ear, and cough symptoms.
Viramune- Viramune not only can be used regularly to purify the blood in order to keep viruses and sickness away, but it also helps to enable the body to revive health again with it's powerful all-natural organic remedy with blood purifying herbs!
Make sure to stock up now to build a strong, healthy immune system this fall!