Posted by TriLight Health on May 7th 2020
Mother's Day is right around the corner. To celebrate this day, we wanted to share a unique herb with you. On occasion, the name of an herb also reflects a bit about its medicinal benefits. Motherwort happens to be one of those herbs. No, it's not the "wort" part either, it's the "mother." This herb has been said by some herbalists to be the most beneficial herb for uterus available. It is often used for fertility, menstruation, during menopause, and for other female health support uses. We hope you enjoy learning about this herb today and happy Mother's Day!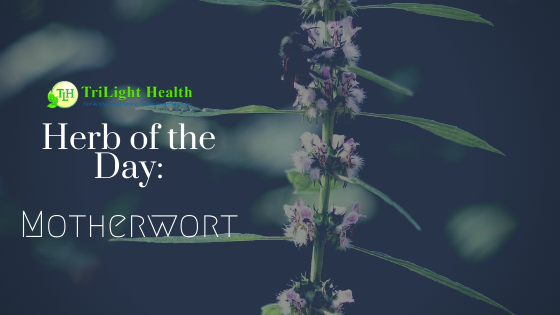 Traditional Herbal Uses of Motherwort:
Blood Congestion
Parasites
Intestinal Worms
Menopause
Hypothyroid
Thyroid Support
Delayed Menstrual Cycle
Anxiety
Childbirth Preparation
Postpartum Recovery
PMS
Hot Flashes
More
The Plant
Motherwort is native throughout many parts of Europe. It is a member of the mint family and will grow in the same unruly manner that mint is prone to. Ganders must keep up with its growth, or plant in containers. Care of the plant is quite easy and the plant can grow up to six feet tall! The entire plant is used by herbalists. Motherwort is most often used as a tincture made from the dry plant.
TriLight Health and Motherwort
We do not use Motherwort in any of our herbal preparations. It is an herb that we wanted you to know about. Ask your herbalist or practioner for more information!