Posted by TriLight Health on Feb 27th 2020
Chickweed is a common weed which is often a frustration to gardeners. This plant is hardy and grows year-round along roadsides, in cracks along your driveway and all over the yard. High in Vitamin C, magnesium, iron, B12, and many other vitamins & minerals, this plant can be a healthful and delicious addition to salads. Herbalists use it topically and internally in a variety of preparations. It's also often added to herbal multivitamins as a bio-available way to get vitamins and minerals in these formulas.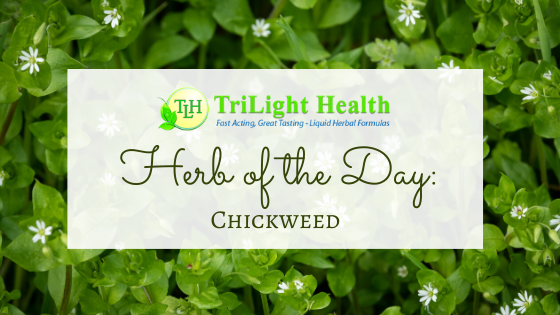 Traditional Herbal Uses of Chickweed
Chickweed grows easily in many places. It's one that can be used topically as a poultice in certain situations. Below are traditional uses of this herb:
Weight Management
Sore Throat
Digestive Support
Constipation
Inflammation
Cough
Bronchitis
Lung Support
Flu
Colds
Burns
Cuts
Wound Healing
more!
Our Formulas Containing Chickweed
Chickweed is found in Lungs Plus, Lung Tonic, Blue Green Minerals, and Original Herbal Minerals
Lungs Plus is a cough formula carefully created with herbs containing expectorant and demulcent properties. Our customers report a faster duration of coughs when using this formula
Lung Tonic is our pregnancy safe herbal cough formula. It also contains herbs traditionally used to help with chronic cough and respiratory struggles.
Blue Green Minerals is our herbal multivitamin with calcium and magnesium as well as other essential vitamins and minerals. It's been called "liquid calcium" and is a favorite for all ages.

Original Herbal Minerals has been used by children, the elderly, pregnant women, and everyone in between for over 20 years. It tastes delicious and our customers love it as an herbal multivitamin.