Posted by TriLight Health on Oct 29th 2020
Close your eyes and imagine the sweet/spicy scent and flavor of ginger. This herb is a favorite in the fall and winter season. Known as a warming herb, there is a reason why ginger begins to grace our plates more often as the days cool off. Herbalists use ginger often too. Unlike some other herbs, ginger is available in your local grocery store. It is even on the shelves of mainstream markets as a supplement. This funny looking herb has become popular natural remedy among MDs and other practitioners too. Incorporated into culinary and herbal preparations, ginger makes a delicious addition to herbal blends and meals!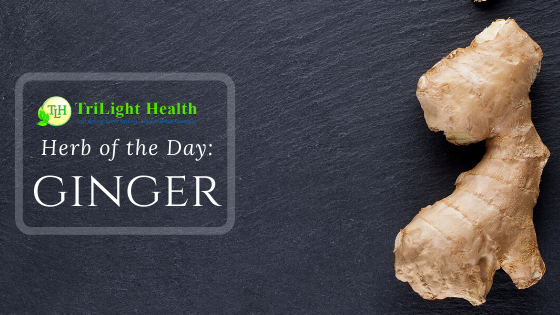 Traditional Herbal Uses of Ginger:
Nausea

Vomiting

Morning Sickness

Flatulence

Motion Sickness

Colic

Circulation

Raynaud's Disease/Syndrome

Depression

Worms

More
TriLight Health and Ginger
We use ginger in Sinus Minus, Tummy Plus, B-Fruitful, NR Glow, RespaClear, Morning Soothe and Move E-Z

Sinus Minus has been a best-seller for decades. This is our fast acting sinus formula that contains herbs traditionally used to help dry up and deal with sinus problems. It's a first stop for our customers with sinus issues year-round and is especially popular during allergy season and cold/flu season.
Tummy Plus is a Mommy Must Have. This is a delicious digestion formula that is full of herbs known to calm an upset stomach. It has been used during times of colic, indigestion, food poisoning, heartburn, and many other digestive upsets.
B-Fruitful belongs to our pregnancy-friendly line of products created by the late herbalist and midwife, Shonda Parker. Ginger is used alongside other herbs known to promote healthy hormone and menstrual cycle balance.
NR Glow is another best-seller than many of our customers are never without. It was formulated as an immune support product and has been popular for decades as such. Our customers have also found that it's quite helpful for those who suffer from Eczema at providing relief.
RespaClear is another pregnancy-friendly formula that was created to help provide immune support and respiratory relief to pregnancy women. This can also be used by those who are not pregnant and it's especially popular among those who have excess mucous and stomach-ache caused by excess mucous.
Morning Soothe is our delicious and easy to take morning sickness support formula. TriLight moms swear by this for morning sickness relief!
Move E-Z can be used by the whole family, even mom-to-be, in times of constipation. Unlike other constipation products, this is easy to take and tastes delicious so it doesn't feel like such a pain on top of already feeling ick! Parents of constipated toddlers especially love this formula.
Find all these products with ginger on our website.