Posted by TriLight Health on Jun 18th 2020
Brought over by colonists, this herb has spread nationwide and is one we're sure you've seen! It's an incredibly hardy plant with over 200 varieties. You'll find mullein growing in some of the most likely of places. It's often found growing alongside highways, abandoned parking lots, and in nearly any open field. Often written off as a pesky weed, herbalists know the true value of this hardy plant. Mullein is a beautiful plant in addition to a powerful herb. Each part of the plant, including the flowers, is used in a different way.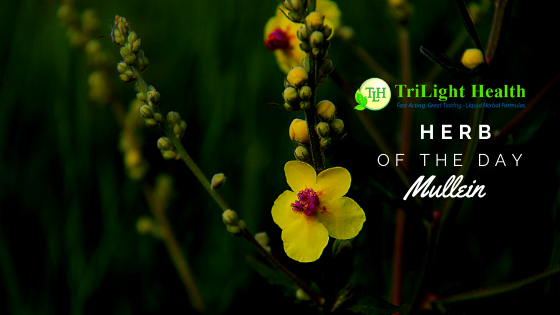 Traditional Herbal Uses of Mullein:
Cough
Lymphatic Congestion
Lung Irritation
Respiratory Support
Asthma
Sinus Infection
Bronchitis
Earaches
Flu
Infection
Digestion
Diarrhea
Wound Healing
and more!
TriLight Health and Mullein
We use Mullein in in Lungs Plus, Sinus Minus, Scout Out, Flew Away, ASMA, Hear No Evil, Lung Tonic, RespaClear & Earache Relief Wellness Kit
As you can tell, we love this herb! These formulas are primarily cough-support formulas. Lung Tonic and RespaClear are part of our pregnancy-friendly line of products. Hear No Evil is our fast acting earache relief formula. It's a topical formula that has been used by countless families to help relieve ear pain quick! The Earache Relief Wellness Kit contains 3 products and has been carefully cultivated to work synergistically top help relieve ear pain, and tackle the root of the pain, fast.
These are products you want to have on hand before you need them. Make sure to stock-up now, they start as low as $8.95 - then you won't be caught unprepared when sickness strikes!