Posted by TriLight Health on May 24th 2023
Did you know more baby showers are held in May and June than any other time of the year? Springtime must get us thinking about new life! Here at TriLight we are spending the month of May celebrating moms and moms-to-be.
We have worked hard to cultivate a line of herbal formulas for every stage of motherhood from pre-conception to menopause. Today we want to focus on pregnancy since it is baby shower season. Several years ago we had the honor to work with late herbalist and midwife Shonda Parker. Shonda helped us create a line of products full of pregnancy-friendly herbs. For Mother's Day a couple years ago we combined the most popular products into our Pregnancy Essentials Kit. This kit is the biggest of our Wellness Kits and a comprehensive bundle for the duration of pregnancy.
In this kit you will find-

Morning Soothe - Morning Sickness Support
Original Herbal Minerals - Multivitamin - Prenatal Vitamin
Tri-Iron - All Natural Herbal Mineral Iron Supplement
Labor Prep - Uterus Preparation for Childbirth
Start Up - Used to Naturally Induce Labor
Contract Ease - After Birth Pains and Uterine Cramps

As you can see, this kit has you covered from early pregnancy nausea to post-birth discomfort. Every single formula is midwife created and approved. Doulas, midwives, birthing centers, and even a few OB-GYNs keep these fast acting formulas on hand for their expecting mothers. They are easy to dose, taste good, and have been used for decades. We've even included our delicious prenatal multivitamin, Original Herbal Minerals. It's also a favorite among toddlers and kids so you'll be able to enjoy it for years to come.

What you won't find are mysterious ingredients you can't pronounce, anything synthetic, or Alcohol, Sugar, Soy, Salt, Starch, Yeast, Wheat, Gluten, Corn, Milk, Egg or Preservatives. You can't say that about most of the prenatal vitamins on the shelves these days, unfortunately!
Moms love this kit because it's a great value and easy to use. We have found it to be an especially popular baby shower present. Grateful mothers often tell us how overwhelmed they were trying to find pure prenatal products and were delighted to get this kit as a gift. Gift it to your mom-to-be friend all at once or give her a bottle a month as she moves through the phases of pregnancy.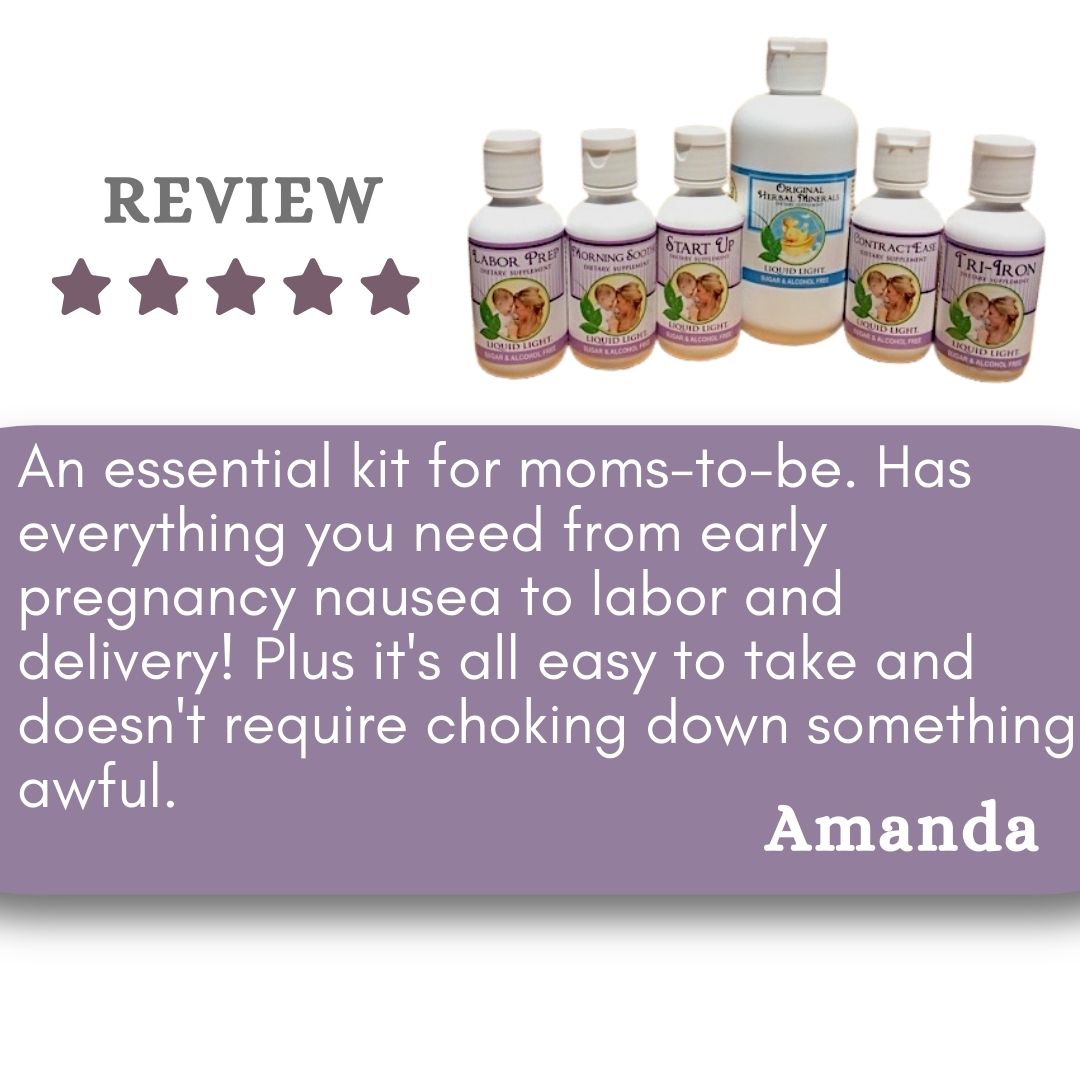 For a few more days you can get this kit for 10% off as our May 2023 Special of the Month.
It's already on sale + another 10% off will be taken when you add it to your cart.
Let us take one thing off your to do list by providing this kit of pregnancy-friendly formulas to see you through all three trimesters and beyond.
---
Note- As always, consult your healthcare provider before beginning anything new- especially during pregnancy. While these formulas are ok for most pregnancies most of the time, it's important to make sure they're ok for you and your specific pregnancy needs and concerns.
---
Learn More-