Posted by TriLight Health on Oct 20th 2023
Q-How do I talk to my doctor about herbs?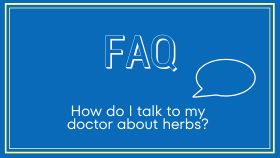 A- Unlike some European countries where doctors & pharmacists are trained in herbal medicine, doctors here in the United States are generally not offered such training. However, the trend is changing and many medical professionals are now recognizing the value of alternative therapies, including use of herbs. The Journal of Managed Care Pharmacy in 1997, noted that 27 medical schools in the United States currently offer elective courses on alternative medicine, including Harvard, Stanford & Yale.
While it may feel intimidating to ask your doctor about herbs, they've likely already been asked and may even use herbs themselves. It can be helpful to bring a printout from our website of the product(s) you're hoping to use. This way your doctor can see the ingredients, reviews, and other helpful information. If your doctor is unsure of how to safely use herbs you may want to reach out to a naturopath, osteopath, or functional medicine doctor. Bringing along your favorite herb book or personal research can also help.
Don't be afraid! Many doctors actually use herbs themselves and are excited to talk and learn more from you. Below we've linked some helpful articles for you to share with your healthcare team about our products.
---
Learn more-