Posted by TriLight Health on Jul 16th 2020
Yellow dock (Rumex crispus) will take root nearly anywhere and is one that gardeners find hard to get rid of. It will continue to grow even when cut, mowed over, or mistreated. This "problem plant" is one worth having around as it is high in vitamins and minerals, purifies the blood, and has a fairly pleasant taste. The leaves are used in culinary preparations and herbalists primarily use the root- though the leaves and seeds are also used. While gardeners generally dislike this plant, it can be a good indicator of soil health and can give gardeners a bit of information about their yard.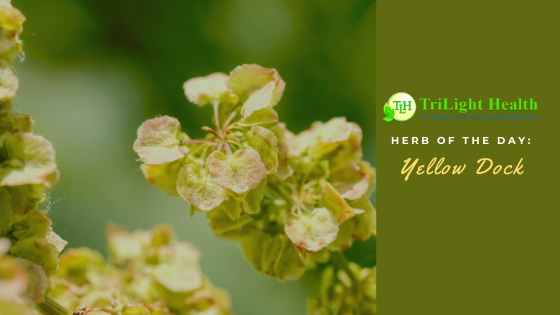 Traditional Herbal Uses of Yellow Dock:
Blood Tonic

Anemia

Diuretic

Liver Support

Jaundice

Detoxification

Laxative

Cancer

Syphilis

Skin Conditions

Constipation

Sores and Itching
TriLight Health and Yellow Dock
We use Yellow Dock in Tri-Iron, Move E-Z, and Scout Out
We've formulated fast acting, great tasting herbal products using yellow dock for some of the most common uses of
this under appreciated herb.
Tri-Iron is our pregnancy-friendly liquid herbal iron supplement. It is also popular for assisting with menstrual-related iron deficiency and anemia.
Karin says- "I have struggled with low iron levels for years and have tried many different supplements. Tri Iron works great for me with no constipation ... and the taste is more tolerable than others I have tried (no grimacing at the taste!)."
Move E-Z is our pregnancy-friendly constipation support herbal formula. Parents of young children and the elderly also love this formula.

Rebecca says- "This stuff works so well. We've been dealing with constipation issues for one of our family members for a while. I give him the recommended dosage of this and he gets "unstuck" a few hours later. Great stuff!"

Scout Out is our herbal antibiotic formula. Many of our customers say it is their favorite product and we get rave reviews on it. Plus it tastes delicious so there's no fighting kids (or picky spouses) to take their medicine!

Lori says- "LOVE SCOUT OUT! We use this at the early onset of a cold and it knocks it right out. Seriously, knocks it out. We don't even end up with the full cold. It just leaves. We have a saying in our home when we start feeling a cold..."scout it out"!! ALWAYS have a bottle of Scout Out in the cupboard. Always."
All of these products are backed by our worry free guarantee and start as low as $14.95 per bottle. Discover the amazing power of yellow dock first hand with these formulas.