Posted by TriLight Health on Sep 12th 2023
We have all been there, fresh off of a fun summer when the first illness of the season hits. It's never any fun and makes adjusting to the rhythm of autumn difficult. Back to school season is upon us and, unfortunately, this often means taxed immune systems.
For over 20 years our customers have turned to the Immune System Builder Wellness Kit this time of year. The products in this kit were crafted with herbs traditionally used for centuries for immune support. We've put them together into one kit that's not only easy to take but yummy. In fact, parents often tell us their children ask to take these products. When was the last time your kiddo asked to take medicine or a vitamin?!?

In this kit you will find-
Bactamune is called a "miracle in a bottle" by our customers. Customers love it both at the first sign of illness and as a regular immune support tonic. An added benefit is the herbs in this formula have traditionally been used to support skin health.

NR Glow contains herbs herbalists love for lymphatic and immune support. Customers turn to it for acute illness as well as a variety of chronic conditions. We were also pleasantly surprised after a few years of using this to find customers report it helped alleviate eczema.

Echinacea and Thyme with Elderberries - these are the three best-known herbs for immune support. It's long been one of our most popular products and customers rave about how yummy it tastes.

These formulas work synergistically to support the immune system during wellness and illness. We recommend alternating and taking one product per day. We've had customers report they managed to ward off any illness until they ran out!
EW says "This was my first purchase from Trilight Health. My kids use these three along with Viramune (rotate one each morning) during the colder months to stay healthy. We've been doing this the last couple years and the only time they've gotten sick is when we haven't been as regular or we've left town without them."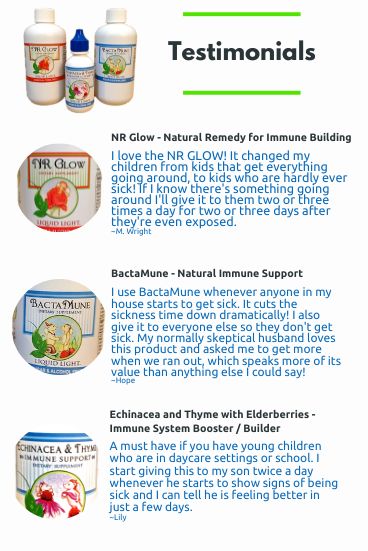 This is our special of the month and is 10% off this month. Stock up so you won't run out.
---
Learn More-
The Top Herbs for Immune Support
Why so many Immune Products?!
FAQ- Should you only take immune formulas when you are sick?