Posted by TriLight Health on Oct 10th 2023
Did you know there are more headaches reported in autumn than any other time of year? We thought this month would be a good time to talk headaches and migraines. People often think of turning to herbs to colds, flu, and coughs. However, herbs for headaches and herbs for migraines are not something people consider as often. Herbal headache support has been used for thousands of years, today we'll share a bit more.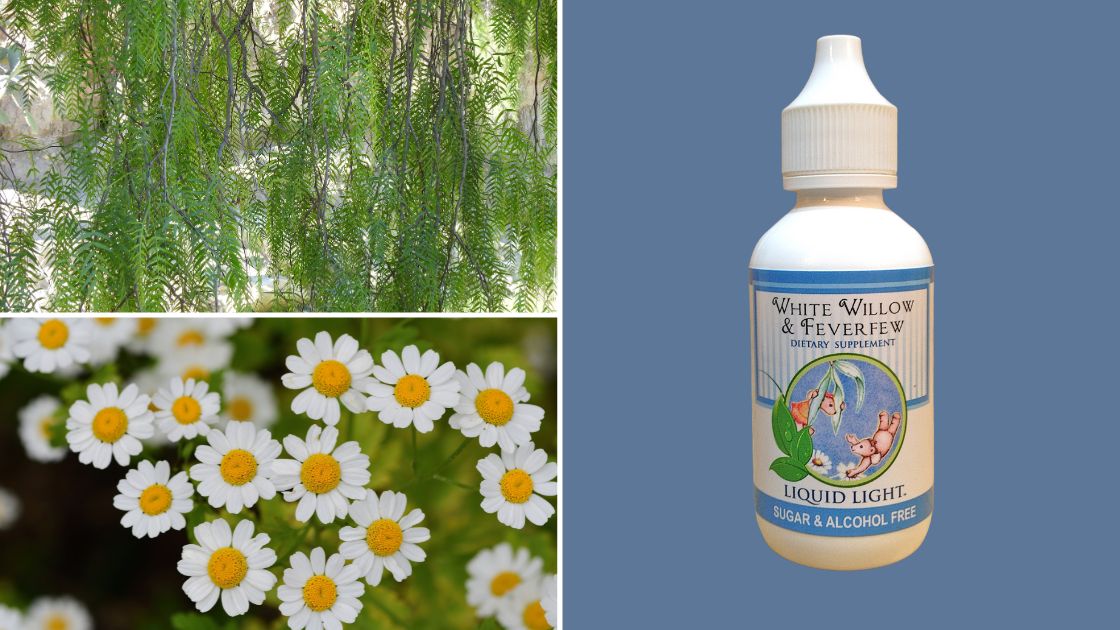 Gentle Herbal Headache and Migraine Support
White Willow is perhaps the best known herb for pain relief. In fact, the active ingredient in a name-brand pain reliever was originally derived from white willow. It has a long history of use by indigenous people and cultures worldwide. Modern medicine is beginning to look at this herb again as an alternative to pain mediations with unwanted side effects.
Feverfew has also been used for centuries for pain relief. Recent studies have been done on feverfew for pain with incredible results. This herb acts on several body systems and is an apoptogenic herb making it quite versatile. Research is being done on using this herb for chronic pain conditions as well.
We've combined these two herbs together in our White Willow & Feverfew formula. This is a mix of herbs that was handed down to us by Cherokee healer, Medicine Bear. It's been a TriLight formula for over 25 years. Medicine Bear's tribe used it for centuries before handing it on to us. No other herbs are added, we keep it plain and simple. It tastes amazing and works quickly. We've heard from customers who suffer from chronic headaches or migraines that have found total relief by using this formula!
How YOU Use It
Here are some testimonials and uses from happy customers about White Willow & Feverfew
Relief from migraines
Stress headache relief
Cluster migraines
Sinus headaches
"Really works! I take this when I feel a headache coming on and it stops it in it's tracks." Zakia
"I'm amazed with the results as I suffered from chronic headaches and after taking it, I felt really well." Shilpi
"I've been using this for several years as a natural pain reliever. So much gentler on my system, but gives relief." Suzanne
"I rarely get headaches but when I do they tend to be fierce. I have been using White Willow Feverfew blend for years and just ordered a new bottle to keep at the office. This is the best headache remedy I've ever tried!" Lila
Monica reports it helped her husband with the headaches he got from COVID
"I took this years ago and the debilitating migraines I was getting were completely cured. You do have to take it everyday, not when you get a headache. I took it for a couple years." Diane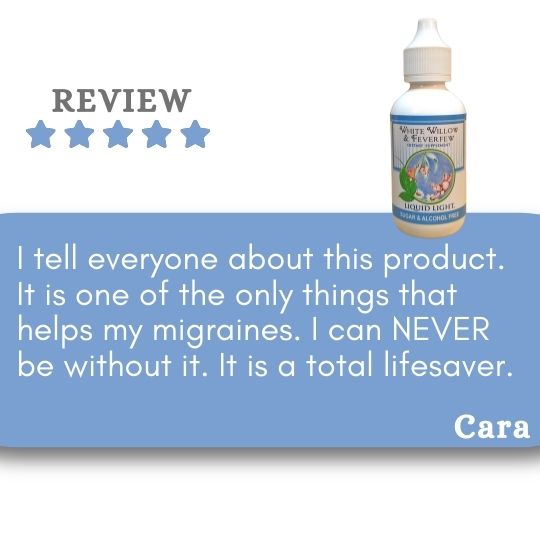 White Willow and Feverfew is our Product of the Month.
10% off all month!
---
Learn more-