Posted by TriLight Health on Jul 9th 2020
Summertime for many folks means travel. While trips may look a little different this year, we wanted to take one thing off your plate for travel plans. With our brand-new travel category, you won't have to wonder "What formulas do I need to bring on the trip?" or "What should I put in our First Aid bag when we hit the road?" These are the most popular, and most often needed, formulas during trips. If you're heading off on a road trip, camping at a local park, or heading out on a plane- consider having these available!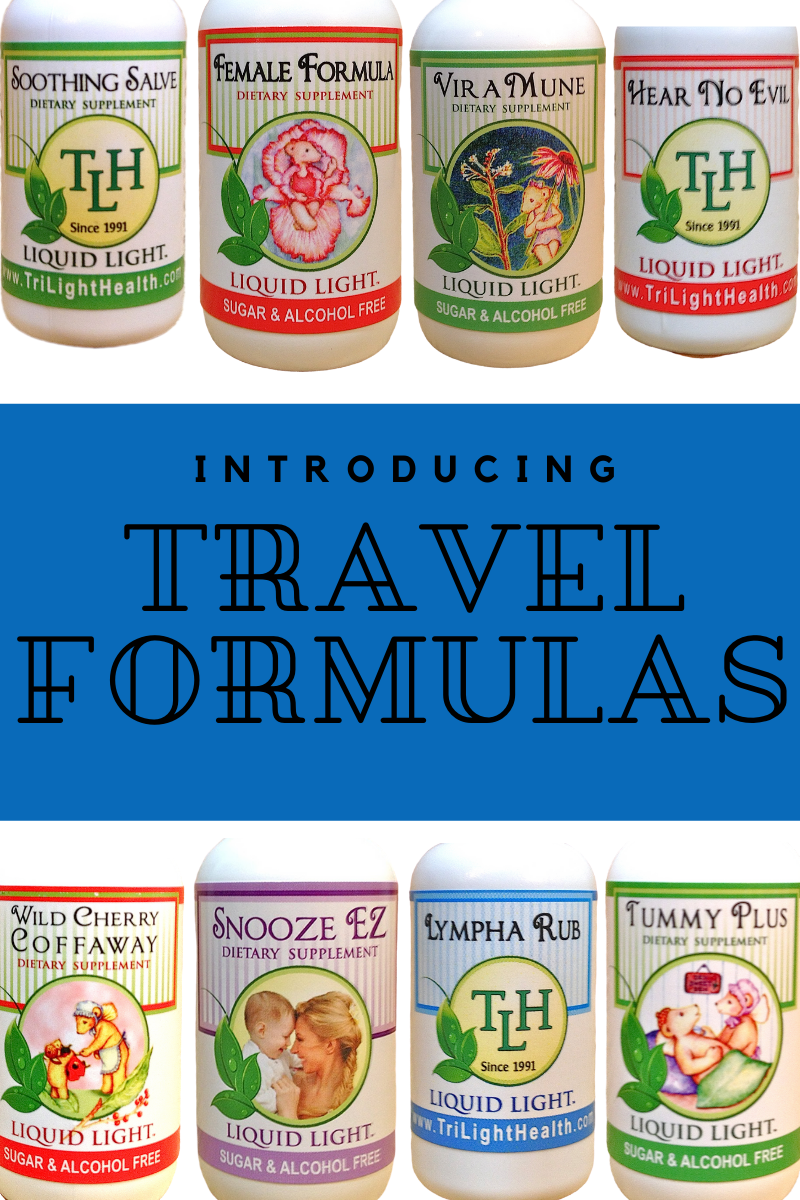 For cuts, scrapes, burns, rashes, and other skin issues- make sure to have Soothing Salve with you. This is one of our best-sellers and something many of our customers are never without. It contains herbs and essential oils traditionally used to heal the skin quickly- and it smells delightful.
Female Formula works fast to help relieve menstrual cramps and other PMS-related symptoms. It has replaced over the counter cramp medicines for many of our customers.
Travel can be hard on the immune system. ViraMune has been used by thousands of our customers for immune-system support. Our customers like to take it at the first sign of illness as soon as they think they're coming down with something. It can also be used alongside Lympha Rub which is our essential oil blend that can be used topically or internally. Customers report using it for sore throat, swollen lymph nodes, sinus problems, topically on sore muscles, and much much more! Wild Cherry Coffaway is our best-selling cough syrup that tastes like a treat and works like a dream.
Why does it always seem like earaches appear on trips? And usually at 2am! Hear No Evil is unlike anything else we've ever seen on the market. These potent little ear drops help provide fast and easy earache relief so you can get back to enjoying your trip.
When travel-related insomnia hits, or sleep is hard to come by, consider Snooze-EZ. This is our pregnancy-friendly sleep support formula that can be used by the whole family. Many of our customers like to put a little bit in some warm water and sip it as a delicious tea before bedtime.
Stomach aches often end up being a part of travel. Fortunately Tummy Plus tastes great and works quickly to calm the stomach Our customers love it for indigestion, gas, upset stomach, colic, and other tummy troubles.
Best of all, you can get these formulas in small 1/2oz and 2oz bottles so they're easy to toss into your bag without taking up a lot of space.
No coupon code needed, simply add any of the formulas to your cart and the discount will be applied at checkout.
Happy Travels!