Posted by TriLight Health on May 5th 2022
This plant is worth its weight in gold. Goldenseal is often hailed as one of the most valuable and useful herbs available. One of the primary features of goldenseal is its ability to help the mucous membranes, greatly benefiting the sinuses. However it impacts almost every body system and organ- it's been widely used for a variety of ailments throughout the ages. It can be used topically and internally and is often used as an eye wash. The flavor is quite strong and a very little bit goes a long way so you'll find it mixed with other herbs in most cases.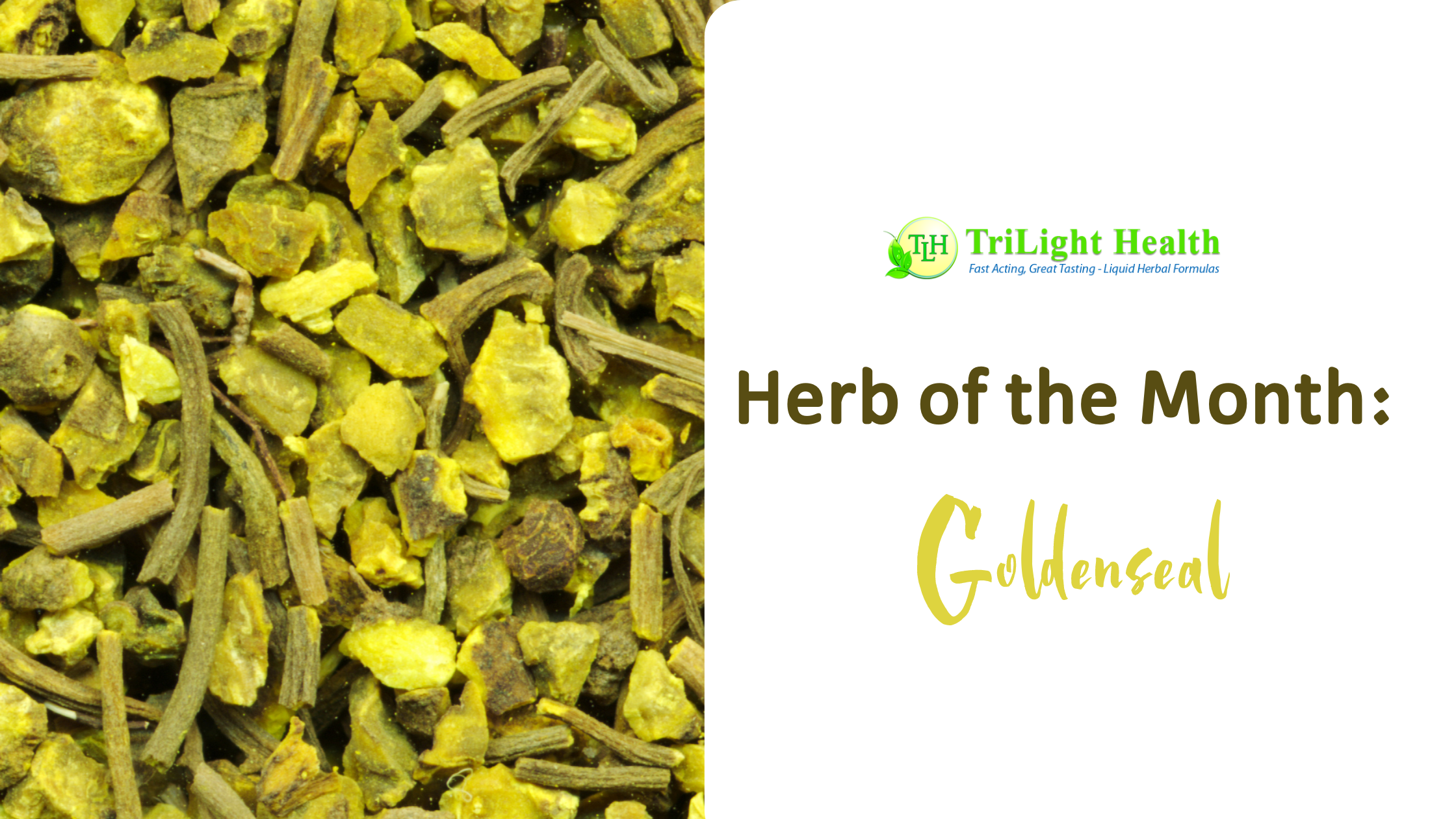 Traditional Herbal Uses of Goldenseal
Hydrastis canadensis

Urinary Tract Infections

Liver Tonic

Sore Throat

Inflammation

Eczema

Stomach Ailments

Ulcers

Canker Sores

Tonsillitis

Eye Wash

Low white blood cells

More
Harvesting Goldenseal
The roots of goldenseal are typically used in herbal preparations. This plant grows in the mountains- particularly in moist forest areas. It takes three years for a goldenseal plant to be ready to harvest. Unfortunately it has been overharvested and is in danger of extinction in the wild. Most of the goldenseal used by herbalists has been cultivated. Unlike some hers, wildcrafted goldenseal is not recommended. Please do not harvest wild goldenseal! Oregon Grape is a suitable substitute in many preparations.
TriLight Health and Dandelion
We use Goldenseal in:
Soothing Salve - topical salve for cuts, burns, bites, and more. Smells delightful and works fast!
Hear No Evil- fast acting ear drops. Gentle with quick results typically experiences.
Triple Echinacea & Goldenseal- our powerful immune support formula. Often used with Scout Out and Sinus Minus during times of illness.
Sinus Minus- contains herbs traditionally used for deep sinus and lung support. Also popular with our customers who deal with asthma and hayfever.
Scout Out- herbal "antibiotic tonic," this is a formula passed down to us by Cherokee herbalist, Medicine Bear. It's a staple for many of our customers!
Goldenseal formulas are
10% off all May 2022
no coupon code needed.

Simply add them to your cart and the discount will be applied. These formulas are available from $13.45 and come in TSA-approved travel size bottles for easy transport. Stock up before summer!
Want to save even more?
Volume discounts also apply, order over $100 and save an extra 5%, or order over $200 and save another 10%!
---
Learn more: