Posted by TriLight Health on Jan 10th 2020
January is all about fresh starts. Fresh goals. Fresh dreams. It's also the time of year people are most likely to focus on their health. Folks start focusing on cleaning their bodies up after maybe a few too many holiday treats. We sell more of our detoxification formulas during January than any other time of year. Plus, lots of our customers like to do their parasite cleanses in January.
All month long, we're bringing you 15% off all four of our detoxification formulas. No coupon code needed, simply add any (or all) to your cart and the discount will automatically apply.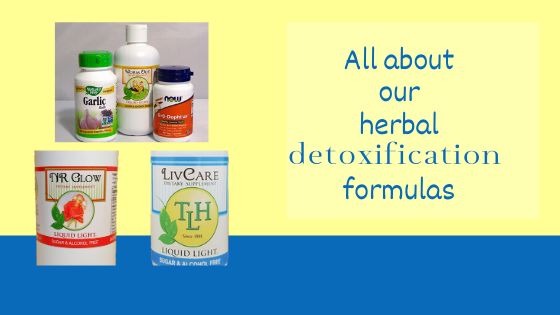 Our detoxification formulas include:
LivCare- The herbs in this formula have been traditionally used for gallbladder and liver support. Herbalists love these herbs for their supportive properties, diuretic abilities, and blood purification. It contains Sarsaparilla Root, Dandelion Root, Burdock Root and Chamomile Flowers.
NR Glow- People are often surprised to find this falls under our detoxification category as well as immune support. The herbs used in this blend have been used by herbalists for centuries for purifying the blood and cleansing the lymphatic system. It's become a favorite among those who suffer from eczema and can be used as a daily tonic for immune support as well as cleansing. It contains: Echinacea Angustifolia Herb, Oregon Grape Root, Astragalus, Pau d'Arco, Red Root, Red Clover, Peppermint Leaf, Buchu Leaf, Licorice Root, Thyme Leaf, Ginger Root and Capsicum.
Worm Out- This is our best-selling parasite cleanse formula with rave reviews. We regularly hear from customers who have tried other parasite protocols with no results who are amazed at how well Worm Out works. It was formulated with help from Medicine Bear, a Cherokee healer and has been used for decades. We've also heard this has helped customers with Candida overgrowth. Plus it tastes delightful which makes the process easier to go through! It contains- Black Walnut Hulls, Wintergreen, Cinnamon, Pau d'Arco, Thyme, Chamomile, Burdock, Catnip, Wormwood and Cloves
Parasite Cleanse Wellness Kit- The easiest way to do a parasite cleanse is with this kit. First, the parasites are weakened with the garlic capsules. Then, they're flushed gently from the system with Worm Out. Last, the system is strengthened with the probiotic capsules. Make sure to read up on all the information about dietary suggestions and water consumption here. That'll help your cleanse go more effectively.
Don't wait, make sure to stock up on these formulas before they go back to full-price in February.