Posted by TriLight Health on Apr 8th 2022
Love them or hate them, dandelion season is upon us. This humble yellow flower is a prize to herbalists-home gardeners remain unconvinced. They are an important first food for pollinators, especially bees. The entire plant can be used by both cooks and herbalists. Home cooks add the leaves and flowers to salads, saute the stems as a pasta substitute, and roast the roots as a delicious coffee alternative! Most herbal preparations are made using the roots but the flowers are also used. Dandelion is a very nutrient rich herb that is especially high in Vitamin A. This is an important herb to make sure to use organic as they are often heavily sprayed.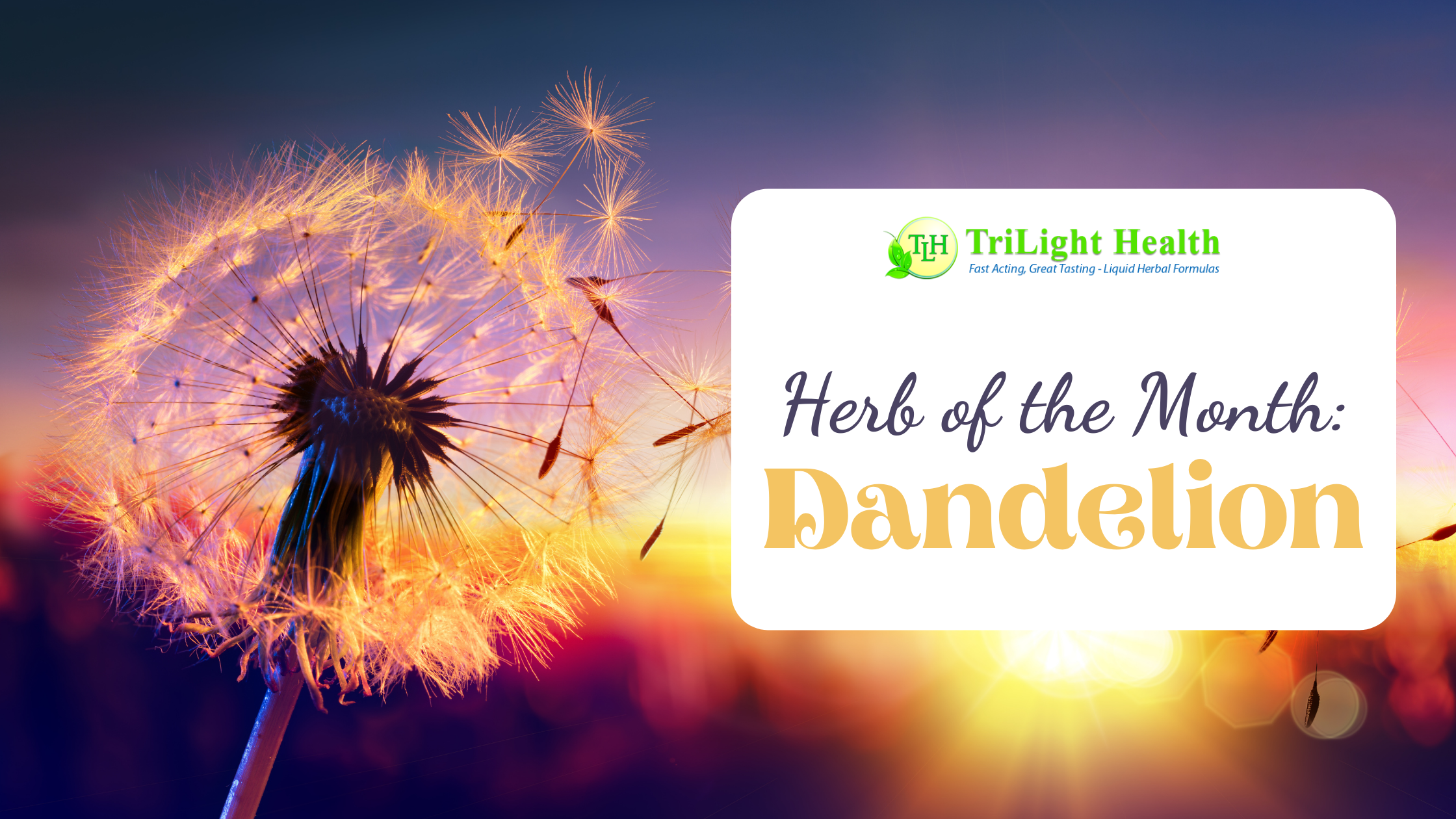 Traditional Herbal Uses of Dandelion
Taraxacum officinale

Blood cleanser

Constipation

Detoxification

Diuretic

Heartburn

Liver support

Nutrient absorption

Urinary support

Vitamin and minerals

More
TriLight Health and Dandelion
We use Dandelion in:
LivCare - Contains herbs traditionally used for liver and gallbladder support. Our customers report having clearer skin when using LivCare too!
UriCare- Our urinary tract support formulas. This is a popular formula for urinary and kidney related infections, as well as bladder and kidney health.
Move E-Z- Pregnancy-friendly and gentle constipation support. It's delicious and gentle enough for use on toddlers and the elderly as well.
Tri-Iron-This is our best-selling herbal iron formula. It is pregnancy-friendly and has also found a niche among young women whose bodies are adjusting the menstruation.

As you can see, dandelion has an affinity for helping our bodies cleanse. It's something herbalist often turn to for support with problems people aren't always comfortable talking about! We hope knowing more about dandelion herb benefits will help you in your journey.
Dandelion formulas are
10% off all April 2022
no coupon code needed.
Simply add them to your cart and the discount will be applied. These formulas are available from $13.45 and come in TSA-approved travel size bottles for easy transport.
Want to save even more?
Volume discounts also apply, so order over $100 and save an extra 5%, or order over $200 and save another 10%!
---
Learn more:
Why dandelion is so great it gets its own day!
Herbal Constipation Support
All About our Herbal Detoxification Formulas